PRMS 2012 is the developed using latest .net technology like( ASP.NET, Ajax, Linq, Report Viewer) to make it a very powerful, yet simple-to-use Payroll system. With it's enhanced features PRMS 2012 is the best available payroll software to process your own payroll in-house. PRMS 2012 can be configured to be accessed on a single pc , on the entire intranet or can be made available online to be accessible from any part of the world , allowing multiple users to access the system at the same time with their defined rights.
Real Time Guard Tour:- Security Officers on patrol clock-in by using the mobile app to scan NFC (Near field communication field ) tags mounted at the security guard check points throughout the premise.
Incident Report:- Incident reports are generated on the spot , using android smart phone, time and place.This is sent to control room via internet data for immediate action .
Staff E-Attendance:- Security Officers check-in shift attendance by scanning their QR CODE and snapping a photograph with their camera phones.
Visitor management system:- Visitor exchange their NRIC with bar code scanner key in the visitor details and stored in encrypted format of personal data and blacklist visitors will be highlighted in the system and barred entry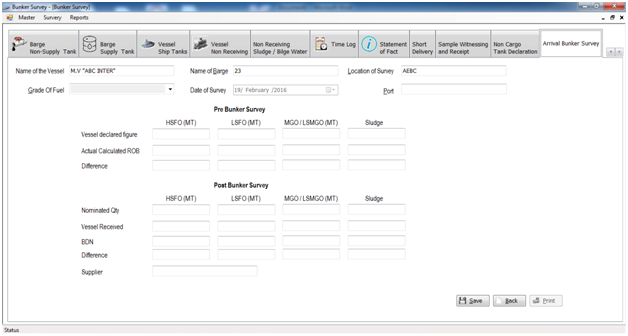 Fuel quantity disputes are notoriously difficult to resolve and a satisfactory outcome will rely heavily on evidence provided by a ship's crew. Detailed and correct documentation is vital.
Bunkers Survey Software ensures CLARITY AND TRANSPARENCY based on official shipyards documentation, guaranteed by our 30-year experience and reliability.
Bunkers Survey software assists the user to track record of Bunker quantity measurements in every voyage and also on receiving a Barge Bunker delivery receipt the user instantly can re-calculate the quantities received for any Heel/Trim/Drafts based on the Sounding/Ullage tables.
In order the module to help the user to determine how much fuel and/on diesel oil the vessel received during a bunkering process, the user must measure and input the contents of the vessel's fuel and diesel tanks before and after the bunkering and the module will calculate the difference, taking into account the necessary ullage/sounding corrections due to vessel's trim and list.
On receiving from Chief Engineer the following: Drafts / Heel and for each tank (Density/ Sound/ Temp) the user instantly can calculate the FO/DO Reports in order to monitor the Bunkers ROB. The program includes ship's FO/DO Sound/ Ullage Table and Trim/Heel corrections.
Features of Bunker Survey© for vessel and office application:
Definition of the vessels tanks categories as HSFO, LSFO, ULSFO, MDO etc.
Conversion from volume to mass.
Corrected Weight in Air or in Vacuum.
Density of the Bunkers can be corrected.
Print-out.
In-house development.