Simple easy to use MobiGuard (Security Site Management System- Mobile Apps Based) capable of using in multiple industries.
Centralizes guard management and monitoring system on cloud, MobiGuard provides security firms with an effective system and a mobile app that is able to manage the profile and duty assignments of all security guards in one centralized system. MobiGuard Patrol allows patrol tasks easily, collect tour times and record the tour activities in real-time during patrol duties.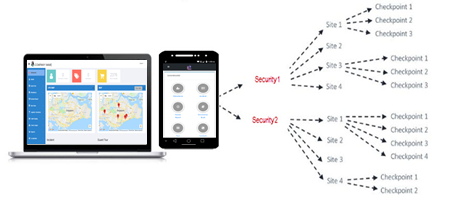 Mobiguard is for monitoring, reporting and managing your security operations. Guards can do patrol tours, report incidents and activities in real time. Managers and clients can monitor, review, and respond instantly from their browsers or smart-phone. GMS improves efficiency, accountability and profitability. GMS provides an enterprise solution for collecting, organizing, and presenting real-time data from your field operations.
Productivity Improvement
Our System helps to integrate the optimal use of all resources – manpower, equipment's, operation process, workflow and cost
Implementation of this system helps to improve the productivity of Security officer's work force thru Cross trainings, Awareness and by standard process followed in their business operation to control the needs.
Technology, equipment and communications channels helps to raise productivity
Security Officer's skills and knowledge are monitored and continually updated to maintain productivity
Manpower Costs Savings
Eliminate time-consuming tasks of security companies – improve productivity
With this System using Real-Time data, it can be well monitored, managed and act according to the need.
Manual / Repeated - The System Eliminates much of the manual manpower associated with managing a paper and performing on-site audits of guard patrols
Process/Workflow - This system can enhance and improve project management and workflows so that more assignments gets done with less staffs